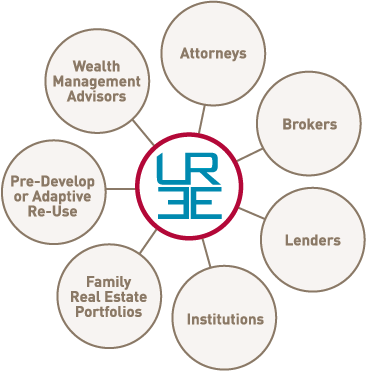 Attorneys
Many attorneys have a practice dealing with high net worth individuals, family estates or local institutions advising on their real estate holdings or their acquisition/disposition decisions. There may be a need to reposition the property for highest value, to refinance the property to increase cash flow, restructure ownership and evaluate the asset(s) to achieve the highest value if a sale is eminent, or re-fresh building operations to enhance the cash flow. We can partner with the attorney and his client to evaluate the best option for value enhancement.
Real Estate Brokers
We add value to a brokers selling process by completing a property evaluation including operating expenses, confirming zoning and defining building development potential, completing a highest and best use evaluation – especially from a financial analysis comparison perspective - or restructure the building tenant mix and debt to better enhance income and produce the highest sales valuation.
Lenders
"A building doesn't know how it is financed," is a favorite saying of one of our principals, but the financing and debt service can wreck havoc on the return on any asset, destroying any opportunity for positive cash flow if a loan is incorrectly structured. We assist in evaluating the financing on a property with an eye toward restructuring debt, equity and ownership distribution in order to improve property cash flow and value. With the lenders concurrence we can also suggest conversions to higher and better use to support a more stabilized property under current market conditions.
Institutions
Many institutions without local presence are investing in the San Francisco market and need local advisors to authenticate their assumptions, investment strategies as well as provide third party management. UREE is a key player in the local market and can support or joint venture with institutions in their investment activities with a goal of improving cash flow, operations and valuation.
Family Real Estate Portfolio Owners
Working with clients and their advisors in analyzing the balance of the real estate portfolio, its performance, and maximizing the distributions from assets is one area of our expertise. Completing a strategic analysis on the portfolio to determine fit for the family is a key element in shaping family real estate holdings. We have a wealth of experience in all property types including, office, retail, multi-family, hotels, land, condominium projects and mixed use.
Pre Development or Adaptive Re-Use
We analyze the development potential of any property, including entitlements, zoning, use and value. Our focus on costs-to-return are key components of any pre-development decision and implementation. Working through the complicated maze of government approvals, development exactions, TDRs, housing requirements and highest and best use negotiations is a strong suit at UREE.
Adaptive Re-Use Advisors
Many properties can outlive their useful life in their current condition and depending on the market dynamics, it might be suitable to evaluate redefining the use of a property to suit current demand, thereby increasing value. Some of the most unique historical projects in San Francisco have been re-developed and adapted to modern use by the UREE team.
Wealth Management Advisors
We compliment the family and high net worth wealth advisors by assisting in evaluating the client's real estate holdings and how they fit into their overall wealth management planning. Selling an under-performing real estate asset might free up cash to invest in an alternative asset creating a better balanced investment to suit family needs.
Local Operating Partner
Institutions, families, high net worth individuals that own real estate may require local market knowledge and operating partner expertise. Our team has an extensive history of managing property and projects supporting the asset from tenant construction build-out and oversight to a multi-million dollar use conversion. Our management expertise comes from a hands-on application and involvement – not from the school of ivory tower management.